Join the EFT Tapping Mentorship Program
Too often people get certified then go no further. The EFT Tapping Mentorship Program is designed to make sure that doesn't happen to you!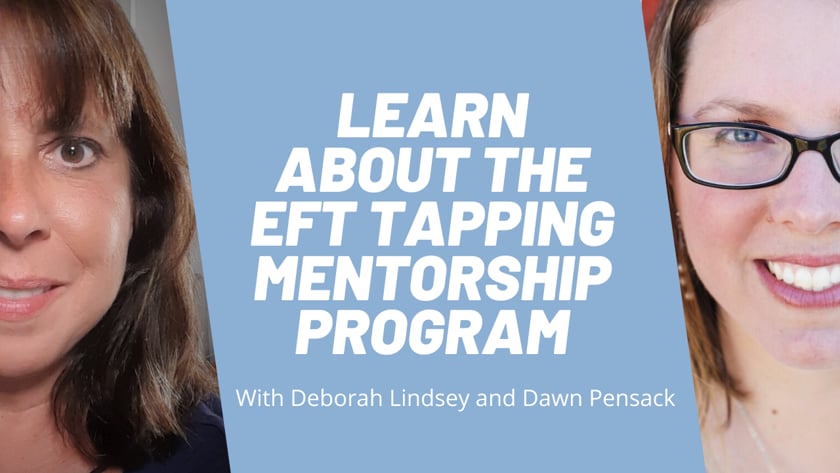 Improve your Client Results and Grow Your EFT Practice
Becoming a successful EFT practitioner can be daunting, but it IS possible. With the right guidance, you can go on to earn a great living on your own terms and experience the fulfillment that comes from doing what you were meant to do.
The EFT Tapping Mentorship Program is designed specifically for walking you through the process of getting certified, starting your business, growing your business, and scaling your business. We do this through what we call "The Success Path."
Deborah Lindsey, along with her colleague Dawn Pensack, guide you step-by-step along that path to make the process of becoming a successful EFT practitioner as easy as possible.
Growing Your Successful EFT Business Is Easy When You know How
In the EFT Tapping Mentorship Program, we help you to:
Our tap-alongs help you to tap your way through those fears that hold you back. 
As you work your way through the program, you will develop the confidence you need. 
Learn new marketing skills
The Success Path offers a wide-variety of marketing trainings. 
Improve your client results through continous learning. 
Join the weekly accountability calls to help keep you motivated. 
Join the weekly accountability calls to help keep  you motivated. 
The Tools You Need to Grow Your Business Quickly and with Ease
Being part of the Mentorship Program has taught me how to build an online business through social media and valuable information regarding working with clients.
The Mentorship Program is a rare find. I feel enormous gratitude to be part of this generous and caring community. I am continually receiving opportunities for growth as a practitioner and as an entrepreneur with my own EFT business. The environment within the group is encouraging, inspiring, and challenging. Deborah and Dawn's intention to provide support, guidance, and education is felt and experienced. All of this is offered in a safe, stimulating, and interactive program.
The Mentorship Program has created a container of space for me to grow my EFT practice with a group of like-minded individuals that are extremely supportive and inspiring.
I really enjoy Deborah's Mentorship Program for there are so many other tools to help us be successful. One - we get to see Deborah in action and it helps us see how she uses her intuition as well as everything she teaches us. Two because Dawn gives us all the logistics of how to get clients and even helps us find a text to say how to connect on Facebook Instagram, Linken, etc.
Frequently Asked Questions
What is the success path?
When you sign up for the Mentorship Program, you receive a login for the Online Portal. In that portal, you will find step-by-step instructions on how to make your business a success. Begin by figuring out where you are in the success path, then follow the step-by-step process. Each step comes with full instructions and training on how to implement that particular step.
What does the EFT Tapping Mentorship community look like?
Community is a huge part of becoming successful. Everyone needs someone to turn to when they have a question, are feeling lost or frustrated, or just need a pat on the back.  Our community takes place in an exclusive, private Facebook group plus a Whatsapp Chat.
How do the live calls work?
Live Calls take place twice a month on Zoom, one with Deborah and one with Dawn. Once you join the program, you will find the dates, times, and links on the front page of the Mentorship Portal.  Each call is different and depends on the people who attend. We discuss client issues, marketing strategies, success stories, and more. Sometimes we event tap!
Can Students Join or just graduates?
Everyone is welcome! In fact, step one of the Success Path is getting certified. Having a community to help you during the certification process can be invaluable.
Yes! As a member you can login to the program online from the convenience of your phone or tablet to get easy access to content on the go. 
do i have to be trained from the center for EFT Studies?
Anyone who has graduated from a credible EFT Certification program can qualify to join. 
Join today & get closer to your success